Life Kids

and

Youth Worship

:

on Wednesdays at 7 PM, is held from September through May for students in grades K-5. The kids have an entire floor of our Student Ministries Building (420 N Main) to themselves as we purposely invest in their young lives. Our gifted team of leaders provide fun music, creative and colorful puppet skits, live and interactive Bible stories, challenging games, video segments, meaningful crafts and tasty snacks in a carefully planned environment where each child is valued and cared for. We use the Bible as our textbook and lead the children on an interesting adventure through the great stories that teach us all so much about life with God. In the six years that they can be involved in Life kids, they will hear many of the great stories of the Old Testament, and be introduced to the unconditional love of our Savior, Jesus Christ. Each lesson is thoroughly planned for each age group and engages the kids on a level that they can understand and apply in their lives at home, school and with friends. They will be encouraged to pray and worship and serve others as an important part of the Church today!
If you are looking for a ministry to help your children or grandchildren discover more about life with God, we encourage you to visit a Wednesday night or contact us with any questions that you may have about this great part of Life Church.

on Sundays is for age 4 through 5th grade! There is also a Nursery provided for infants through age 3. Kids are welcome to participate in their own separate time of learning that runs concurrently with the adult service. Parents and caregivers can take a break and enjoy the adult service while the kids experience what we hope will be one of the best hours of their week! Kids can be securely checked-in up to 10 minutes before the adult service starts. If it is your first time at Life Kids, there is a short registration form to complete which enables us to serve you and your children more effectively. Kids should be be picked up no more than 10 minutes after the end of the adult worship service. We hope to see you and the kids sometime soon!
---
Family Nights!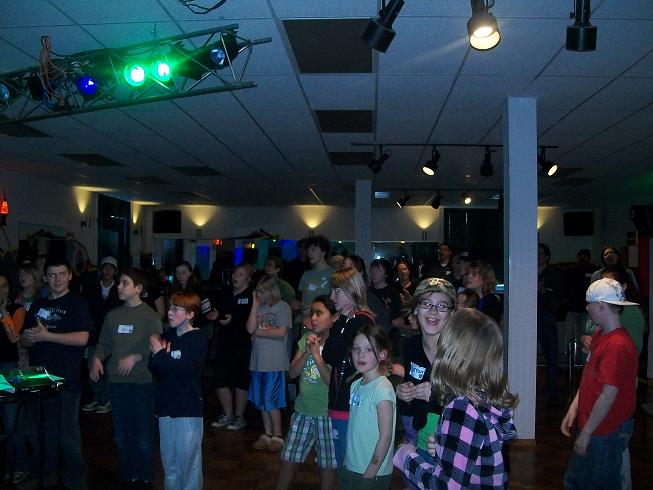 A few times each year, the kids invite their parents and families to Family Nights. These are fun experiences for all ages to come together and enjoy a time of laughing and learning - Life kids style. The theme of our big group games or challenges, music, crafts, skits and message all point to a truth for families from the Bible. Look for these dates on our calendar page.

Park or Lake days!
In the summer we also host a few dates at one of our city parks or at Lake Mitchell. The kids will be invited to bring the whole family for a day of laughing and learning together. These summer outings are a great chance for families to enjoy some time together and focus once again on the One who gave His life to save us - Jesus Christ. Watch for dates on our calendar page.
---

youth worship is for students in 6th -12th grades. They meet on Wednesday nights @ 7 PM in our Student Ministries Building (map) The doors open at 6:30 PM! The official start time is 7 PM!
We have dedicated the entire main floor of our building for the teens to be equipped and refreshed and also as a launching pad for outreach into our community. Pastor Bill's first "title" within this ministry was youth pastor. After more than 25 years of loving and ministering to teenagers, both within our church family and through our teen center, he still leads this ministry determined to offer real life, challenge and hope to the youth of our community. We are blessed with a great and gifted team of volunteers, most of whom have been with us for many years.
Students are encouraged to develop a close relationship with Jesus Christ and discover how He has gifted them to make a positive difference in the world around them. We want teens to really "know Him and make Him known!" There are many opportunities for students to serve or give of themselves as they live out the adventure that God has for them. Teens will also be encouraged to find a place to serve in other areas of ministry as a part of Life Church. You will see them involved in many ways during our weekend times of worship or serving as important parts of projects in our community.
V
isit
www.

thatplaceforteens.org

or
check out our
that place for teens page on Facebook!
For more information about Friday nights at our teen center "that place", check out our website at: thatplaceforteens.org
Watch the calendar page for special events, camps and other opportunities for teens!

If you are looking for a ministry to help your student discover more about life with God, we encourage you to visit a Wednesday night or contact us with any questions that you may have about this great part of Life Church.
Living Water Projects
You may have seen our students and leaders selling drinks during the Corn Palace Festival. All of the proceeds are used to fund the drilling of clean water wells with Living Water Intl. The students have helped to fund four wells and some have even been able to travel to participate in drilling the wells! They are currently working on well#5!
Short-term Missions
We have had the honor of partnering with international missions organizations to send students on short-term (one week to four months) mission trips to countries around the globe! As students take on the adventure of earning or raising funds for travel expenses, preparing for the journey, praying, studying, traveling, working, eating, serving and giving of themselves, they learn in ways that just hearing about such adventures could never accomplish. We have worked together to send people to communities in our own state, Alaska, Baja California, Mexico, El Salvador, Panama, Guatemala, Costa Rica, Peru, Ecuador, Haiti, France, Romania, Kenya, Botswana, Rwanda, Uganda, Gunniea Bissau, India and China. Where will He send you?
#ServeDay
In a culture that tends to promote selfish and self serving attitudes we are challenged by Jesus to love our neighbors. We plan Serve Days as opportunities for students and adults to work together on local projects to benefit others. Whether it is serving with another local church or organization or working to bless a neighbor in need of some physical help, we learn more about following Christ by humbling ourselves and serving others. Watch the calendar for our next #ServeDay